Andreu Moreno, Evissa
---
Both painting and sculpture drew me from an early age, my first steps consisted of collaborations with pictures in the magazine that was published in school, comics, drawing local contests, molds for costumes .. This was one of the reasons why I decided to enter the School of Arts and Crafts of Ibiza, where I studied interior design motivated by my interest in drawing and the job opportunities offered in the future.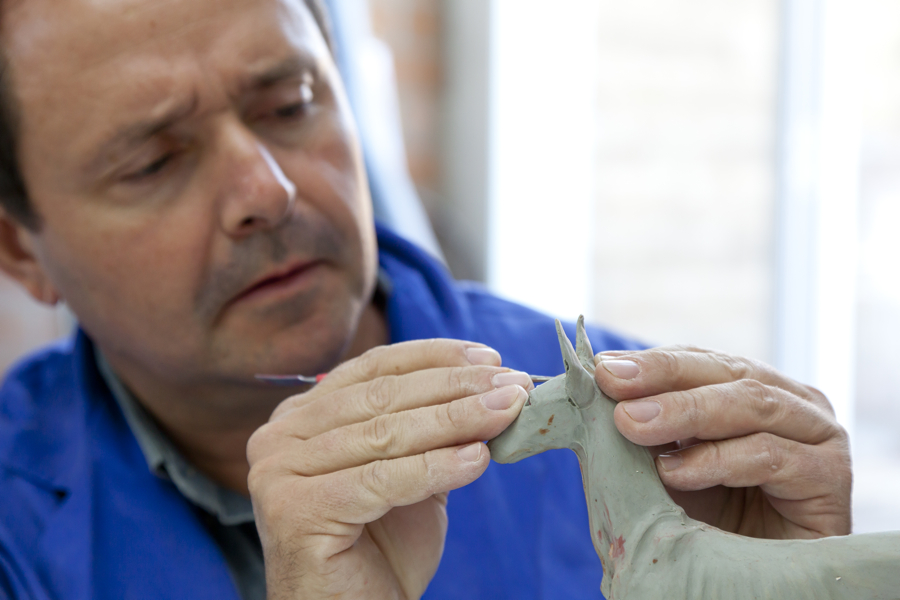 And immersed in the world of work and responsibility and time consuming one's own business, artistic activity during a period of my life consisted of several paintings (landscape, portrait ..), various collaborations, some local trophies sculptures, designs for small associations ... selflessly accepted papers that filled me with pleasure but for those who just did not have time and quiet.

Through an excellent person and great friend of mine, Joan Beia, which unfortunately is no longer with us, Director of the School of Arts and Crafts in Ibiza, I began to introduce myself and explore more of the world of sculpture when I was introduced to sculptor Jesus Ceballos. Later I met a group of sculptors in bronze casting course lost wax, held in San Miguel. All this, coupled with the encouragement of my wife, who always insisted not to leave him, took me about five years to really start making sculpture, especially in bronze. One of my first jobs was to carry out trophies for the Association of Ca Eivissenc, who then followed by other projects, to highlight the sculpture homage to Ca Eivissenc to the Island Council of Ibiza. Currently I am doing other projects for the municipality of Santa Eulalia del Riu.

One of the things I love about the sculpture is, above all, allowing me to focus on the figure that I represent, unlike when I paint, I forget superfluous elements that distract and focus on what really interests me, the occupation of the volume in space.
---